Trojan Services Limited (TSL) specialise in marketing innovative products for the rail industry and other civil engineering applications.  Currently ballast, which is used at the side of a railway line, is retained by 1.8 meter long concrete ballast boards.  The ballast boards are exceptionally heavy and consequently very difficult for contractors to manoeuvre into position and install.  TSL set FSW Design the challenge of designing a unique ballast board, which would be lightweight, simple to transport and install, but still meet the rail industries functional criteria.
The final product is a completely unique blow moulded ballast board system branded TroBord and manufactured in recycled HDPE.  It is lightweight and can be produced competitively at high volume.  Each board has interlocking features so that one board can be connected to the next creating a rigid structure.
This project is an excellent example of how the processing and engineering benefits of plastics can be used in an unusual and unique application to create new market opportunities.
If you would like to find out more about how we can help you with product development, why not contact us.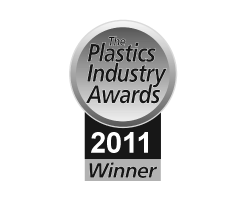 Plastics Industry Awards
Best Industrial Product Winner
2011