A multi-function shower, sanitary and commode chair for children.  Available in two sizes with additional modular liners to fit users from 3-16 years of age.  Easy to clean with detachable components.  A tilting mechanism allows showering in a variety of positions.  Designed and engineered for maximum user comfort and support.
In 1999 the innovative attributes of the design were recognised when the Seahorse won two prestigious awards within the rehabilitation market, the Naidex new product showcase and the Independent living awards.
If you would like to find out more about how we can help you with product development, why not contact us.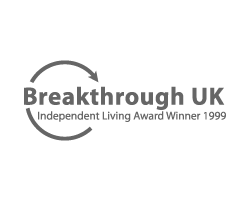 Independant Living Award
1999