Defender Light Cannon
Concept Realisation
Concept Development
Design for Manufacture
Birchwood Price Tools engaged FSW Design Limited to investigate a gap in their lighting range. Lighting is often required in environments were no mains power is available.  To provide flood lighting, the light source must be deployed at height and workspaces are not easily accessible requiring a lightweight portable solution. Concepts were generated and the Light Cannon was conceived.  The main body of the unit is constructed from an aluminium extrusion.  An injection moulded battery case houses the Lithium Ion batteries and the control PCB.  This is positioned low down on the unit providing stability when the light is deployed.  In order to create a stable base for the light, tripod style legs can be deployed.  The head is attached to an aluminium extruded telescopic mast allowing it to be raised to over 2M in height.  The powerful light head houses 8 Cree high powered LED's and provides a tilt and swivel action allowing the user to focus 2500 lumens of light exactly where needed.
The Light Cannon has been particularly well received by the Emergency services who find its portability, high light output and ease of deployment invaluable in critical situations.
If you would like to find out more about how we can help you with product development, why not contact us.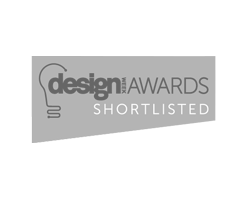 Design Week Awards
Best Industrial Product Award Shortlist
2016